Whose Bat Do You Use?
02-10-2014 / By: X Bats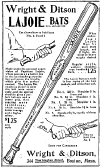 The Louisville Slugger trademark on each bat led to the branding of player signatures on the barrel of the bats. Until then, players carved their initials or in some other way marked the knob or barrel of their bats. Baseball players using Louisville slugger bats before the turn of the century included Willie Keeler, Hugh Duffy, Pete Browning, John McGraw, Hugh Jennings, Honus Wagner and the Delaney brothers, just to name a few.

"Bud" Hillerich earned a partnership in his father's business in 1897 and the name of the company was then changed to "J.F. Hillerich and Son". At the turn of the century, A.G. Spalding and brothers, being in the sporting goods business, were advertising and selling their very popular Mushroom and Gold Seal bats. Wright and Ditson were also selling their Nap Lajole bats, featuring the new and unique double ring handle. A.J. Reach baseball bats also added to the highly competitive business of manufacturing bats.