Trophy and Gift Bats
10-05-2017 / By: X Bats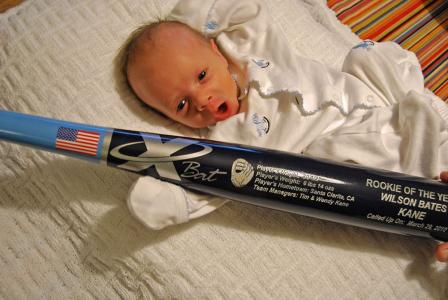 A bat can represent much more than tool used for hitters. It can be a mark in time, a representation of an event or team accomplishment, a memento of sorts, or even just a personalized gift for the avid baseball fan. Whatever the case may be, customized bats provide a fun, personal, and one-of-a-kind experience for those special fans and baseball enthusiasts.
If you're looking for something small, but extremely memorable look no further than the mini bats. Featuring enough space on the barrel for multiple lines of text as well as carrying enough area for a logo or insignia, the mini bat provides a great way to mark an occasion. Whether that be to highlight a specific player, coach, sponsor, customer, or employee, the mini bat is sure to be a special memory for its recipient. These bats are custom made and individually produced so that each bat is sure to be one of a kind. X Bats provide two different options, one at 11' and the other at 19'.
One bat offered as a gift are those used for baby births. There are two options – the baby birth bat and the rookie of the year baby birth bat. Both are sure to leave an impression on the family. What better way to welcome a new child into the family of a baseball enthusiast? Not only are all the 'stats' represented, but the child's name is also presented underneath a banner of "Rookie of the Year". These bats offer a very personal touch and will be treasured for years to come.
There's also an incredible opportunity to reward a favorite coach, consultant, top salesman, or even a winning team with a personalized bat. Nothing quite says, "Thank you" like some good old wood personalized to just you. It's forever crafted into history and the bat keeps the memories of the past present at each look.
Consider the possibilities. These bats can be used for sponsors of a local business, team champions for tournaments and competitions, a baseball mother or father, graduating seniors, and the list can go on and on. With enough lines to commemorate any occasion and many different finishes to choose from, these bats are sure to be a hit for whatever life throws in the way.