The Past and Future of the Baseball Bat
05-26-2015 / By: X Bats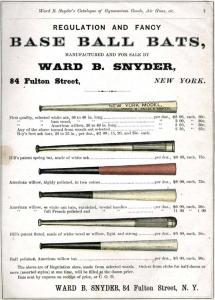 By the 1860s, there were almost as many types of baseball bats as there were baseballs. And like early pitchers, who made their own balls, early batters were known to sometimes whittle bats to suit their own hitting style.
As you might imagine, the results were quite diverse - there were flat bats, round bats, short bats and fat bats. Generally, early bats tended to be much larger and much heavier than today's.
The thinking was that the bigger the bat, the more mass behind the swing, the bigger the hit. And without any formal rules in place to limit the size and weight of the bat, it wasn't unusual to see bats that were up to 42 inches long (compared to today's professional standards of 32-34) with a weight that topped out at around 50 ounces (compared to today's 30).