Slow-Pitch vs Fast-Pitch Softball
06-02-2017 / By: X Bats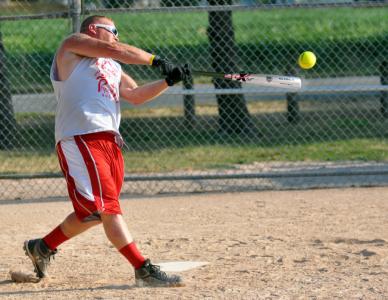 Baseball and softball combined is the most popular participation sport in the US, with nearly 25 million enthusiasts who played in 2016, according to an annual report published by the Sports and Fitness Industry Association (SFIA). That's almost three times the participation numbers seen in football!
SFIA's findings also reveal an 8.1 percent increase in overall and a 12.4 percent rise in casual slow-pitch softball participation. It's no surprise that slow-pitch softball is one of the most popular recreational sports, as it is easily accessible to people of all ages, genders, and skill levels.
Let's take a look at some of the fundamental differences between slow-pitch and fast-pitch softball to get a better understanding of why slow-pitch softball is becoming so popular.
The Main Difference: Pitching Technique and Strategy
Fast-pitch softball players generally use a full "windmill" pitching motion. Pitchers start at their hips and wind the ball 360 degrees around the shoulder, snapping the ball toward the hitter at Autobahn speeds over 60 mph. Batters have little time to react to these high velocity throws barreling toward them from pitching distances between 35 and 43 feet.
Pitchers aim two-seam and four-seam fastballs, curveballs, screwballs, and all other manner of pitches for the strike zone- the area from a batter's knees to their chest. Strikeouts are common as contact prevention and weak hits into the infield are a pitcher's key strategy.
Slow-pitch softball players use a half "windmill" wind-up motion, starting at the hip and winding backward to a point no higher than the shoulder. From 50 feet away, pitchers aren't aiming for a strikeout, which is called only if the softball hits the home plate. Instead, their key strategy is to arc the ball high enough to reduce velocity and avoid powerful hits, such as a line-drive. Aim above 12 feet or below 6 feet, however, and the umpire will declare the pitch illegal.
Hitting: Offensive Strategy
Homeruns are exciting, but fast-pitch coaches rarely rely on big hit wins, instead encouraging bunting, slapping, and singles as their primary offensive strategy. Slow-pitch hitters, on the other hand, are not allowed to bunt balls and often rely on power hitting for the win.
Position Players: Defensive Lineup and Catcher Equipment
The fast-pitch defensive lineup positions 9 players in the field, while slow-pitch games allow 10 players in the field. The tenth player can act as a fourth outfielder or "rover" between shortstop and second base. Fast-pitch catchers are required to suit-up before each inning, whereas slow-pitch catchers aren't always required to wear their gear.
The Bats
Though both fast-pitch and slow-pitch regulations mandate a maximum bat length of 34 inches, the difference is the weight. Fast-pitch hitters can use bats with a maximum drop (length minus weight) of 12- or a maximum weight of 22 ounces. Slow-pitch bats can be no heavier than 38 ounces. The heavier bats used in slow-pitch softball are ideal for putting power behind the swing and hitting those line-drives the pitchers dread.
Slow-pitch softball is clearly more laidback while still offering the spirit of competition, making slow-pitch appealing for all level of players, from major leaguers to recreational enthusiasts. If you're looking to improve your slow-pitch swing, the best power hitters are made by X Bats, which makes professional-grade wood bats for all level of softball players.