More Baseball, More Trees
03-23-2014 / By: X Bats
At this point in history, it was evident that baseball was here to stay. The challenge of every play and the excitement of the fans increased attendance every year. Bat manufacturers realized the importance of continued research in order to supply the best quality wood for their products. Hillerich and Bradsby began manufacturing baseball bats as a small concern at the turn of the century. By comparison, in today's bat industry, it takes thousands of trees each year to supply the bat demand.
Louisville found out early in the bat business that Northern white ash was the most acceptable for manufacturing their product. The best white ash comes from the Northeastern states where the terrain, soil and climate are most favorable for its growth. Hillerich and Bradsby own thousands of acres of timberland in New York and in Pennsylvania. Ash provides just the proper amount of tensile strength and resiliency. This, along with the favorable weight of ash, translates into power and drive in the finished bat.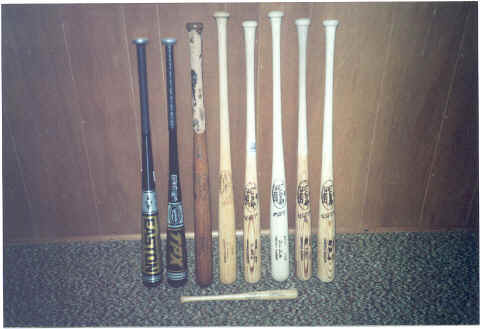 When the billets are unloaded at the company timber yard, they are stacked for forced-air drying. This is done in modified dry kilns for six to eight weeks. Next, the billets are doweled to uniform size, inspected for defects and weighed. Finally, they are manufactured into different size baseball and softball bats.
It is important to note that wood bat usage has fallen off because of great reliance on aluminum. Most wood bats today are used by Professional leagues. Hillerich and Bradsbys' comparison of the bats of today to those of yesterday finds that today's bats are lighter, they have larger barrels and thinner handles.