How a Wood Bat Teaches Children to Appreciate Baseball
05-03-2017 / By: X Bats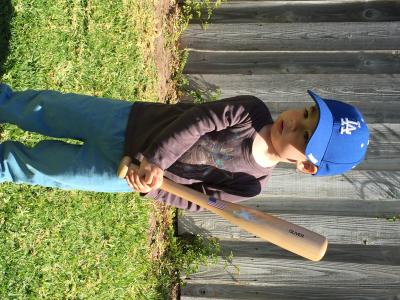 Let's start by saying there's nothing wrong with aluminum bats. They are very light and help players who would not otherwise be able to compete play youth recreational baseball.
But a wood baseball bat prepares your young player for so much more. If they're serious about the sport and they've got what it takes to be the next Babe Ruth, wood bats offer incomparable advantages for your little slugger.
For example, wood bats are heavier(metal bats have hollow barrels and extremely light weights) and a little harder to swing (the balance point is different and it requires much more strength and skill). Now you're probably thinking, "Why would I want to put my young ones through something that's going to cause them strain or discomfort?" Bear in mind,a wood baseball bat doesn't do this. Rather, it makes young players get stronger hands, wrists and forearms,and helps develop a more coordinated swing through its end-loaded weight and smaller sweet-spot. Plying and training with a wood baseball bat results in a stronger, shorter swing, which ultimately leads to a stronger hitter. Regular practice with a wood bat will give your child added muscle tone, which in the long run, prepares them for a career past youth baseball into high school, college, and some day, in the major leagues far better than non-wood bats will.
Wood bats also build a level of appreciation one can't always attain by using metal/composite equipment. Imagine sitting in a crowd of 60,000 fans; the roars are deafening as the batter steps up to the plate, ready to smack the ball into the stands and score another home run for his team. The crowd watches eagerly as the pitcher throws the ball… And a slight "dink" is heard as the aluminum bat the hitter is carrying knocks it into the air. Sure, it's kind of exciting, but it's not all it could be.
There's an air of nostalgia that comes with a wood bat. That distinct "thwack" one hears as the wood strikes horsehide sets off several emotions in the most die-hard baseball fans. It symbolizes power and dominance for every viewer, and anyone who hears that sound knows exactly what they're listening to. Baseball is America's favorite pastime for a reason, and it's the little things like the sound of solid contact that make a big difference.
Giving your children this same appreciation and pleasure is important. If they're going to take part in the sport, they should be allowed to take it all the way. Every little nook and cranny of the game should be enjoyed, and a wood baseball bat is the most important piece of equipment they'll need if they're considering playing beyond age 12 into high school, college,and professional leagues.
And as a bonus, think how confident your child will feel the first time they step up to the plate with a custom bat that is built for their size, ability, and preferences. That distinctive crack of the bat on the field is the sound of success. Young players will find their confidence growing as they perform better with the bat that fits them. Confidence translates to increased performance. They will now take pride in the fact that they're skilled enough to earn the respect of all the opposing players.
If you're eager to give your kids what they need to become the next Bryce Harper or Mike Trout, training with a wood bat from an early age is the tool to start them off on a long career in the great tradition of American baseball.