Help Youth Fall in Love with Baseball through the Crack of a Wooden Bat
03-14-2019 / By: X Bats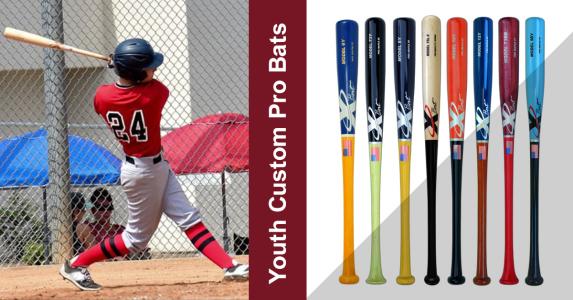 There are few sounds more addictive than the crack of a wooden bat followed by the roar of an adoring crowd. That's not to say we should teach youth to seek public affirmation, but when the hard work pays off it is exhilarating. Professionals in all sports know the sound of success and they have often been training for it since their youth. Golfers long to hear the plink of a center mass drive and football players recognize the crunch of a prime time hit. However, this is America and helping youth fall in love with baseball via the addictive sound of hardened wood on a fastball across the plate is our pastime. As with any job, there exists its proper tool and baseball is no different. So let's walk through a couple of our youth options that train them in the way an American baseball player should go.
Finding the Right Wooden Bat
A talented youth could, we suppose, walk up to any assortment of bats and cross home plate a few seconds later victorious. Then again, a wizard in the realm of Harry Potter could use any wand, but why would they? There is something deeply personal about identifying a bat that a player loves and there is a great deal of science behind it. From hitting stance, to hand size and bat speed, baseball is a game of centimeter and milliseconds. Any of the quality maple youth custom pro bats we sell will produce a sound when it makes contact with the ball, but we are not in pursuit of any sound.
In pursuit of the crack of a bat followed by the roar of an adoring crowd, we've made custom bats for youth of any size and style. In fact, there are over 300 Major League players swinging X Bats right now and we are the only company that makes the same grade of wood for all of our customers. Whether you are 8-years-old trying it out for the first time or a 10-year MLB veteran, they are both in pursuit of the same thing when they step to the plate. That sound. Let's get a little more specific.
Individual Hitting Styles
You'll notice that when searching for the perfect bat for your young slugger, we allow you to sort through various options depending on your kid's unique style. They are End Loaded, Thin Handled, Medium Handled, Thick Handled, Power Hitters, Bats for Gap/Contact Hitters and finally, Best Balanced. If you are unsure as to your child's particular need, then you might want to explore our pretty diverse Best Balanced Custom Pro Bats.
Here you'll notice the options range between the Model 12 and the Model 73. Bats like the Model 12 SL are what many consider the traditional bat for a young player. It features a long handle transitioning with a quick taper to a 2 ¼ inch barrel. However, don't forget that you have customized options from length, weight and even color that allow you to craft a unique product for your child. Then, with options like the Model 73 BB you can step into an entirely new realm of bat. The model 73 has been growing in popularity in Major League Baseball and what you have here is simply a slightly smaller version of it. Tapered medium sized 15/16" handle flaring to a very large knob with a full 2 ½" barrel. It makes a great counter weight and pops on contact. Again, customize it as you see fit.
A Hitter Worth the Investment
At the end of the day, whether your child simply plays in little league or one day makes it to the big show they are worth the investment. Personally, we feel that every child should know the inspiring sound of the crack of a bat followed by the roar of an adoring crowd. We've just seen enough baseball to know that not all are so fortunate. This is about giving your child the edge they need to truly fall in love with baseball. No child hears that crack and roar and walks away with anything but awe. Don't forget to check out the rest of our sport offerings at Xbats.com. Whether you are a pro, little leaguer, or even church softball enthusiasts, we've got a little something for every lover of the game.