Harvest the Field Or Hit the Ball
02-21-2014 / By: X Bats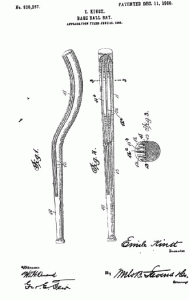 Now, let us focus on a rather unique bat that resembled a hand-held sickle. The inventor, Emile Kinst, applied for and had his bat patented in 1906. His bat featured useful improvements that enabled the batter to strike the ball in various directions. The handle resembled that of a regular bat up to the trademark. However, beyond the trade mark, there were small longitudinal grooves as well as a somewhat flat concave curve that continued along the hitting surface to the end of the bat.
The longitudinal grooves on the handle continued along both sides of the hitting surface. The face or concave part of the hitting surface had three larger grooves. The center groove was straight and the two outer grooves bowed outward. These aided in preventing a fly or foul tip by engaging the surface of the ball when hit. By hitting the ball at certain points of the bat, the ball could be driven to left, center or right field.
It is true that the Emile Kinst bat exhibited several innovative ideas that gave the batter an extra dimension. I am sure that this bat was used by players at the amateur level and helped to improve their hitting. However, by 1893, the Major League rule on bats was very explicit. The rule, in part, stated that the bat shall be a smooth, round stick not more than 2 3/4 inches in diameter. For this reason, The Major League Rules Committee rejected the use of the Emile Kinst bat.