Gift Your Employees a Classic Piece of Americana this Holiday Season
10-27-2019 / By: X Bats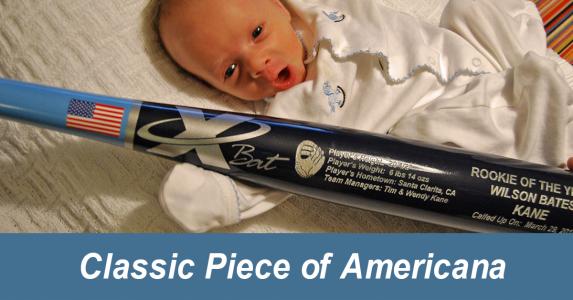 Apple pie, bald eagles, and baseball are about as American as you can get. Yet, only one of these three pieces of Americana make for a suitable corporate gift this holiday season. Apple pie is tasty, but a fleet pleasure with little remembrance down the road. Bald eagles are magnificent creatures, something tells me the Federal Government is going to have a problem with you rounding up a few hundred in order to treat the sales team this Christmas. That only leaves the classic American baseball bat as your best choice for this year's corporate gift. It's functional, lasting, and ready to convey to your employees that they are indeed, America's best. So let's take a look.
Building the Winning Corporate Team
Corporate America is not unlike the average American baseball team. Each member has its unique role and together, you can put together a winning effort. That's why when you are recognizing your employees this holiday season, you can invoke the team effort of America's past time. When you select your Trophy Bat from XBats, you'll have the ability to fully customize the experience right down to the message you display on your bat.
So if you are looking to recognize the best marketing team in the industry, you can say that specifically. Then, to highlight your sales team who knocked it out of the park this fiscal year, you can address them specifically. You can mix and match the colors to mirror your company logo and branding and, at the end of the day, you will have given the team something that they will want to hang on to. It is a quality piece of Americana that recognizes their efforts as part of the larger team.
Individual Achievements are America at Its Finest
Whereas great sports teams and corporations both win as a team, it would be foolish to pretend as if individual achievement is not the stuff of which American success is built on. There were 9 players on the field as the New York Yankees took the field, but there is a reason you know the names Joe Dimaggio and Babe Ruth. So why not take this beautiful Red and Blue Trophy Bat and recognize the top performing salesman of the year?
Or perhaps, why not make a different take on this Rookie of the Year Baby Birth Bat and recognize that new employee who made the biggest impact this year. Recognizing individual achievement serves as a model to others. Moreover, you could just purchase a bat for every employee while noting their years of service. Yet, just like the World Series has an MVP, your organization likely does as well. These bats make great keepsakes and look stunning in an office where one might want to show off their achievements.
Americana for Everyone
You could take a few minutes and ponder all the corporate Christmas gifts you have received throughout your career and now ask yourself if you know where that item is today? So much profit is burned on gifts employees never wanted in the first place. Yet, we can assure you that years from now, these classic and quality made bats will still be adorning offices and homes throughout America. What better gift to give America's workforce this holiday season than a classic piece of Americana. By the way, we are the same company who makes the professional bats for over 100 major league players today. You are getting the same quality. So don't forget to pick up a customized trophy bat for your employees today and check out the rest of our classic American made products at XBats while you are at it.