Best wood bats on the market
09-26-2017 / By: X Bats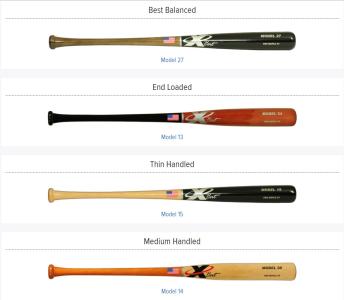 Sometimes in baseball, you just need that one little thing to give you the edge you need over the opponent. Sure, skill is the most important thing in determining who comes out on top, but sometimes, all it takes is the perfect equipment to put you over the edge to succeed.
I've played baseball for over 20 years, from youth to college. I know that one of the most important things for a baseball player is their equipment. You need something that you can trust to not let you down in the big moments.
Maybe the most important tool of all for a baseball player is their bat. It is the one thing that can make or break a moment. If you have something you can trust, your confidence skyrockets. But with so many bat brands, companies, and websites, how can someone find the best bat for them? It indeed is a very difficult question to answer.
I have used hundreds of different bats in my life, from numerous companies and websites. I never really found one specific brand that I fell in love with. That was until I came across xbats.com.
Xbats.com is the last place I will ever buy a baseball bat from. Their selection of custom made adult wood bats is incredible. The have so many different categories and styles of bat to choose from. Every bat is custom made to order, and most importantly, they perform better than any other bat on the market.
When you first go to xbats.com, you may be surprised to see just how many different choices of bats you will have to choose from. It may even be overwhelming at first. There are so many different models and types to choose from, that if you don't have a particular type in mind, it maybe hard to decide. This is where xbats.com really shines. They have categorized their bats based on different things a hitter would want to focus on.
For example, are you a power hitter? Perfect, xbats has a group of bats that are perfect for you choose from! Other categories include end loaded, thin handled, gap hitters, and many others. You will have to check the site out to find the perfect bat for you! They have one of the best varieties in all of baseball!
Once you find your perfect bat, the real fun begins, every adult custom wood bat has a ton of custom choices to make that bat your own. Colors, engraving, flag designs, warranty, and many other things are all at your disposal to make a perfect bat for you.
There are over 35 color choices in the custom bat section, and each bat can have barrel and handle colors. You can even add a matte finish for just a few more dollars. There are THOUSANDS of different color possibilities! Anyone can find the perfect color scheme for them.
All bats can be ordered in maple, ash, or birch wood choices. With tons of different length and weight choices, you can create perfect bat for you with just a few clicks of a mouse.
If you have any questions or problems while making your bat, the customer service at xbats.com is incredible. They answer quickly and make sure that your experience is a great one.
It seems like they always have great deals going on at xbats.com. When I ordered my bat, they had a free shipping limited time offer going on. I took advantage of it! This is just another reason to use xbats.
Without a doubt, my favorite part about xbats.com is the bat resource guide. It has TONS of articles that help you become a better hitter! From technical drills to articles on finding the right bat for you, there is something for everyone one the page. It has already helped me at the plate, and I have more confidence than ever before.
Give xbats a try, like I said before, it is the last place I will buy a bat from. Your bat is one of the most important tools you have as a baseball player. I believe xbats.com gets it right. They understand what is important and provide a great product!