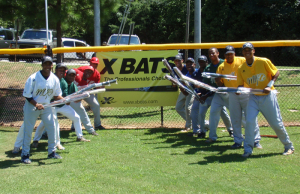 Adult Bats are maple, birch and ash baseball bats 32 inches and longer.
They are categorized as:
You can use our Bat Recommender to find the type of bat that fits your style of hitting
http://www.xbats.com/product_batrecommender/
X Bats has the largest selection of bats for young players aged 4-12.
The T-Ball bat is made of maple and comes in 24", 25" and 26" lengths in weights as light as -5. The Youth 6 Extra Light is made of ash and is also made in lengths of 24", 25" and 26" but it's weight are closer to -7. These are for very young players just starting in baseball.
The Models 8 (thin 7/8" handle), 10 (medium 15/16" handle), 12 (thick 1" handle for better bat control for smaller hands), 98 (long barrel similar to metal/composite bats with medium 15/16" handle and 73 (medium 15/16" flared handle
X Bat makes three styles of fungoes. A traditional fungo, an extended fungo and a Fungo 73. All come in lengths of 33", 34", 35" and 36". The traditional fungo is made of hard maple and has a short barrel with a long handle. The Fungo Extended is a favorite of pros because of it's long barrel, allowing the coach to drop the barrel on the ball with a minimum of effort. The Fungo 73 has a 73 style large flared knob which many coaches like for comfort and control.
X Bats makes a wide selection of training bats.
The Log is a naturally weighted heavy bat for use in live hitting, Tee and short toss work and overload training. Many players get them in 2 ounce increments up to +8 and gradually work from light to heavy back down to light over the course of the pre-season. The Log is used to develop strength in the hands and forearms. It is also used as an on deck warm-up bat due to the weight being evenly distributed
The SBT or Short Barrel Training batis used to develop bat speed. It has a short light barrel and is for use in Tee work and short toss drills.
The Shorty is used for both top hand single hand drills, bottom hand single hand drills and live hitting to assist in coordinating the use of the hands in hitting. Most pros use Shortys every day before hitting with their regular game bats.
The RS Backspin, RS Backspin Shorty and RS Backspin Youthbats are training bats developed by noted hitting guru and 18 year Major Leaguer, Reggie Smith for his Baseball Academies. These are flat sided bats used to groove proper hand position on the bats. When hitting on the round side of these bats with the hands in the proper palm up and palm down position, the bat will come off the barrel like a normal bat. As soon as the hands move slightly away from the plam up/palm down position, the hitter will hit off the flat edge and the ball will go stright up or straight down giving immediate feedback as to the hand positioning on the bat. These are great tools to develop a long smooth path through the hitting zone eliminating dreaded topspin on the ball and promoting backspin for added distance.